Arizona's Best Back and Neck Orthopedic Spine Surgeons
Helping Our Patients ENJOY LIFE AGAIN!
Team Spine Surgeons & Consultants
Out-of-State Spring Training Teams
LPGA Affiliate Physician

Worldwide Leaders in Endoscopic Spine Surgery
People in pain should NEVER have to wait!
We genuinely empathize with our patients and the pain that affects their lives. We listen carefully and with compassion to each patient's story. We treat the whole patient, not just the symptoms. We understand that patients suffering in pain lead busy lives, want relief, and get back to life as soon as possible.
This ultra minimally invasive spine surgery is the most effective surgical technique that relieves a herniated disc, low back pain, and sciatica. Because it utilizes a 1/4 inch incision, patients recover faster than minimally invasive spine surgery.
Shorter recovery time and return to work

Smaller incision-less post-operative pain

Conscious IV sedation and local anesthetic – less risk, avoiding general anesthesia

Reduced post-operative infection risk

Spine fusion alternative – in individual select patients
This highly innovative technique was developed by Anthony Yeung, MD, founder of DISC (retired). Thousands of patients have traveled from around the world seeking endoscopic spine surgery.
Why Get a Second Opinion From DISC? In A Recent Study
88
of patients left the second opinion with a new or refined diagnosis
33
of patients referred for a second opinion had the wrong surgery recommended by the first surgeon
Why Do Patients Choose DISC Spine Surgeons in Arizona?
Simple – because what DISC offers is not available anywhere else!
Artificial Disc Replacement in Phoenix, AZ
Are You A Candidate For Artificial Disc Replacement?
When your neck or back pain prohibits you from working and living an active physical lifestyle, you should consult with an expert spine surgeon. The most common spinal conditions treated with an artificial disc replacement surgery are herniated disc and degenerative disc disease. Other conditions treated with an ADR are spinal cord compression or myelopathy, spinal stenosis, and radiculopathy.
A recent clinical study comparing ADR to spine fusion surgery found that ADR patients return to work 20.9 days sooner than spine fusion patients. Patients most likely returned to work sooner because they did not have to wait for a bone fusion to occur like spine fusion patients do.
Benefits of Artificial Disc Replacement
Motion Preservation
Return to Work Faster
Less Likelihood of Future Surgery
Less Stress on Adjacent Discs
Learn More About Artificial Disc Replacement
Highest-Rated Spine Surgeons in Phoenix, AZ
You Don't Have To Live With Neck or Spine Pain
Have you already received a diagnosis and would like a second opinion?
Experience the DISC Difference!
LEADERS IN MINIMALLY INVASIVE SPINE CARE
For over 20 years Desert Institute for Spine Care (DISC) is the recognized worldwide leader of Minimally Invasive Spine Surgery in Phoenix, AZ. The DISC difference starts with compassionate care. We listen carefully to identify the patient's pain and how it affects their daily life. We get to know you and your goals. Then, we customize a treatment plan that exceeds your goals and gets you back to life!
Our DISC spine specialists commonly treat sciatica, herniated disc, bulging disc, spinal stenosis, neck pain, low back pain, and degenerative disc disease. We also see many patients seeking a second opinion or alternatives to spine fusion surgery.
DISC is also the innovator and recognized leader in endoscopic spine surgery, and clinical trials of new artificial disc replacement devices. Patients, professional athletes, and our physician peers choose DISC surgeons for many reasons, however, four distinct reasons distinguish us from other practices.
Don't just take our word for it. See what patients of DISC are saying about their experiences with our highly-skilled spine surgeons.
See What Our Patients Are Saying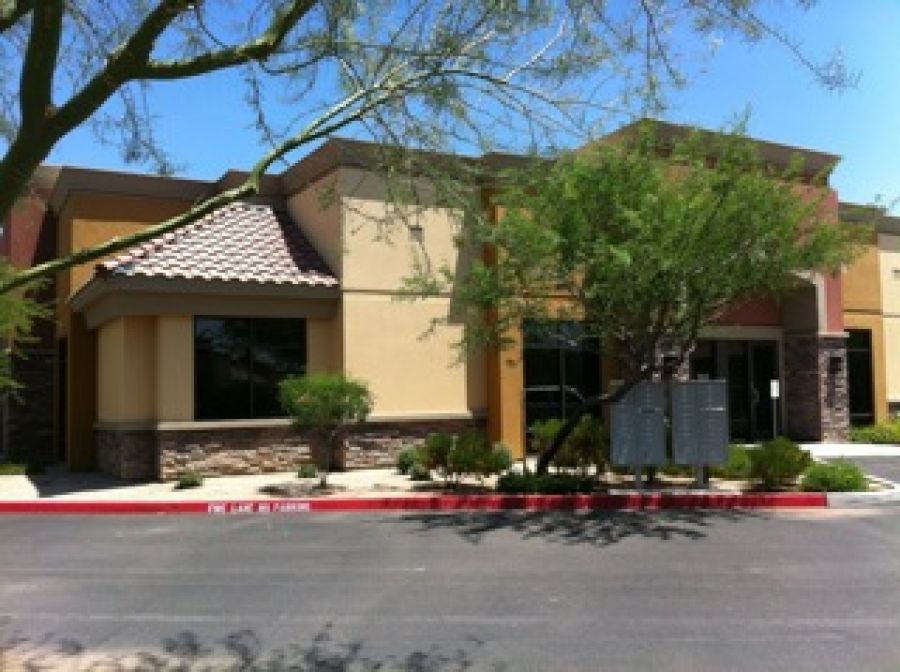 3487 South Mercy Road, Gilbert, AZ 85297, USA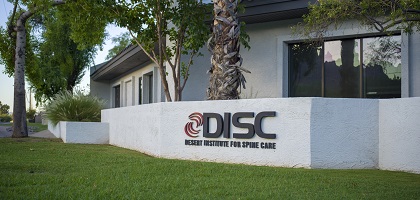 1635 East Myrtle Avenue Suite 400, Phoenix, AZ 85020, USA
8630 East Vía de Ventura Suite 210, Scottsdale, AZ 85258, USA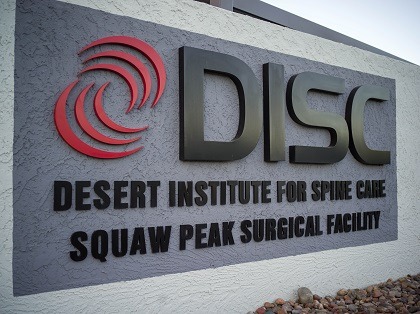 1635 East Myrtle Avenue Suite 100, Phoenix, AZ 85020, USA
18700 North 64th Drive Suite 105, Glendale, AZ 85308, USA